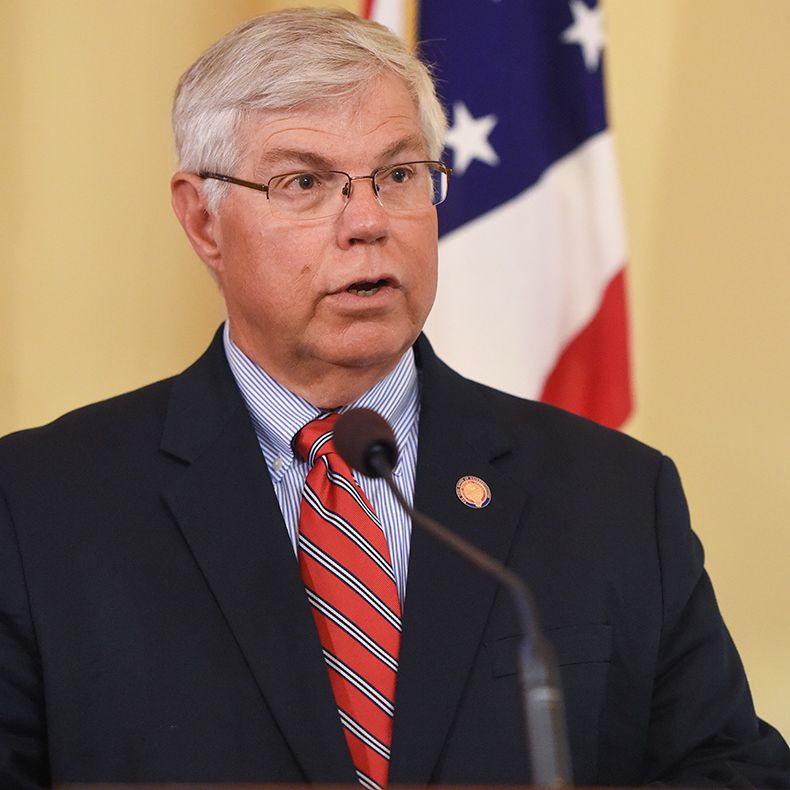 I am Gary Scherer.  I was appointed in April 2012 to represent the 92nd district in the Ohio House of Representatives.  I was blessed to receive support to win elections in 2012, 2014, 2016 and 2018.  Due to term limits, my service in Columbus will end at the end of this year.
Now I have filed petitions to run for election to the office of Pickaway County Commissioner for a term beginning in 2021.  One of our current Commissioners, Brian Stewart, is running for the Ohio House for district 78.  He and others have encouraged me to run for his vacant position.  I look forward to the possibility of joining Jay Wippel and Champ Henson to continue all the positive things that are happening in our community.
I have lived in Pickaway County since 1965.  I married Debbie, my Circleville High School sweetheart in 1976.  We have been incredibly blessed with 3 children and 9 grandchildren (maybe 10 by the time you receive this!)  We live in the Westfall School District where our kids went to school.  Our grandkids are in the Circleville, Teays Valley, Logan Elm and New Hope Christian Academy schools.  I've held numerous volunteer offices including President of the Pickaway County Chamber of Commerce and President of the Circleville Rotary Club.  I served 8 years as a member of the Berger Hospital Board of Governors in the 1990s.  We are members of Community United Methodist Church where Debbie teaches Sunday School.  Oh…and I'm an Eagle Scout!
My opponent in the March 17th Republican Primary election is very actively campaigning, so far mostly with yard signs.  I expect this race to be a close one!  I am trying to catch up and can definitely use your help in any way to get my message out.  Please consider a financial contribution and/or placing a yard sign for me.
Thanks a lot…….. Gary
Career History:
Vice Chair Finance Committee Ohio House of Representatives 4/2012- 12/2020 (term limited)
President of Circleville Oil Company January 2006 to December 2015
Owner of Buckeye Tax Professionals Ltd 10/1997-12/2015 (75 Jackson Hewitt franchises)
President of Harr & Scherer CPAs (now BHM CPA Group) 1994 to 2005
Partner of Snyder Scheffler Scherer & Fast CPAs 1984 to 1994
Manager at Groner Boyle and Quillin, CPAs 1981 to 1984
Senior Accountant at Price Waterhouse 1976 to 1981
Education:
The Ohio State University 1974 to 1976 (BS – Accounting)
Miami University 1972 to 1974
Circleville High School 1968 to 1972
Civic and Professional Involvement:
Past President of Circleville Rotary Club
Past Trustee of Berger Health System
Past President of Pickaway Chamber of Commerce
Past Finance Committee member at Community United Methodist Church
Past Chair of Pastor Parish Relations Committee at Pontius United Methodist Church
Volunteer Instructor of Financial Peace University for CUM Church
Past Board member of Columbus Jaycees
Member of Ohio Farm Bureau Federation
Lifetime Member of OSU Alumni Association
Member of OSU President's Club
Past volunteer speaker for US SBA Small Business Start Up Seminars
Past President of 4 state chapter of national Society of Accountants for Cooperatives
Member of Ohio Society of CPAs
Past member of American Institute of CPAs
Member of Pickaway County Republican Central Committee
Lifetime Member of National Rifle Association
Past Treasurer of Deer Creek Chapter of Pheasants Forever
Past Board Member and Treasurer of Circleville-Pickaway Corporation
Past Board Member of Independent Council of Jackson Hewitt Franchisees 
Honors:
Inaugural Class of Columbus Business First 40 under 40 Awardees
US SBA Southern Ohio Accountant Advocate of the Year
Ohio Farm Bureau Friend of Agriculture
Ohio Society of CPAs Legislator of the Year
Ohio Association of County MRDD Boards Legislator of the Year
Issues
Cutting Taxes for Every Family and Small Business
Government is always trying to get a bigger bite of our paychecks. Gary is a conservative CPA who cut more than $2 billion in taxes for every family and small business.
Creating More Good-Paying Jobs
Job hunting just got easier because Gary supported job training programs that are creating thousands of Ohio jobs. By investing in workforce training, cutting taxes, and slashing red tape, Gary has helped create more than 500,000 new jobs.
Fighting the Opioid Epidemic
Heroin and drug addiction are causing too many kids to grow up without parents. That's why Gary supported harsher penalties for drug dealers, investment in drug treatment programs, and shutting down pill mills.
Endorsements
Ohio Republican Party
Governor Mike DeWine
Lt Governor Jon Husted
Senator Rob Portman
Congressman Steve Stivers
Congressman Troy Balderson
Speaker Bob Cupp
Senator Tim Schaffer
Senator Bob Peterson
Sheriff Rob Radcliff
Commissioner Champ Henson
Commissioner Jay Wippel
Commissioner Brian Stewart
Mayor Don McIlroy
Councilman Barry Keller
Prosecutor Judy Wolford
Clerk of Courts Jim Dean
Engineer Chris Mullins
Ohio GOP Women VP Sandy Darby
GOP County Chair Mike Whitten
Mable Green, Mother-in-Law
Contact Gary
Fill out the form below if you have any questions for Gary.